Compare Baseline vs Current Rank for Overall Rank Change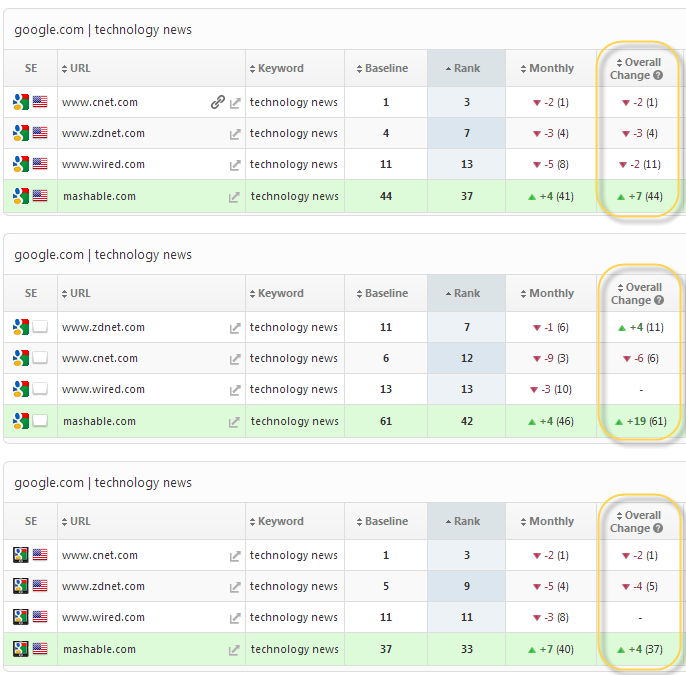 The Rank Tracker Dashboard was upgraded today with a new feature that demonstrates keyword rank progress by comparing the baseline (first tracked rank for a keyword) to the current report date rank.
Overall Rank Change in Competitor View


Here's an example of how it can be used in the Dashboard's Competitive View.  We're tracking the keyword technology news for Mashable vs. competitors CNet, ZDNet and Wired on 3 search engines: Google USA, Google Global and Google Mobile USA.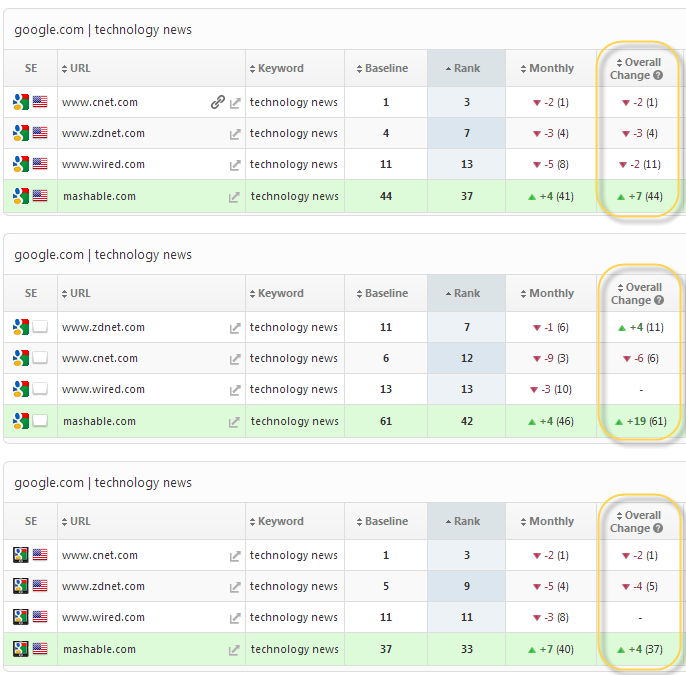 With the new Baseline and Overall Change columns we get a clear
visual of the progress made on this campaign as Mashable's rank has risen 7
positions in the SERPs on Google USA, 19 positions on Google Global and 4
positions on Google Mobile, while the competitors have all dropped a
few positions.  Certainly an impressive accomplishment for Mashable's SEO provider, especially considering that the baseline is less than 2 months old.
How to Implement Rank Change Options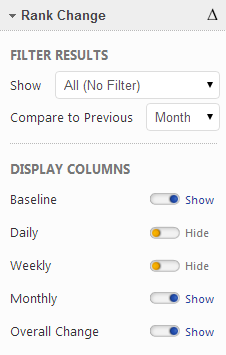 Ready to start impressing clients with the new Baseline and Overall Change feature? The Rank Tracker Dashboard report can be filtered using a variety of options, simply select one of the following in the Show field:
All (No Filter)

Positive & Negative Changes

Only Positive Ranking Changes

Only Negative Ranking Changes

Positive & No Ranking Changes

Negative & No Ranking Changes

No Ranking Changes
Results can be compared to previous day, week or month. And you can choose to display any of the following columns:
Baseline

(the rank on the 1st day the keyword was added to the campaign)

Daily rank change

Weekly rank change

Monthly rank change

Overall Change

(the overall change between the Baseline rank and the report date rank)
Click the Apply Changes button and the report displays.
Overall Rank Change in Single Domain View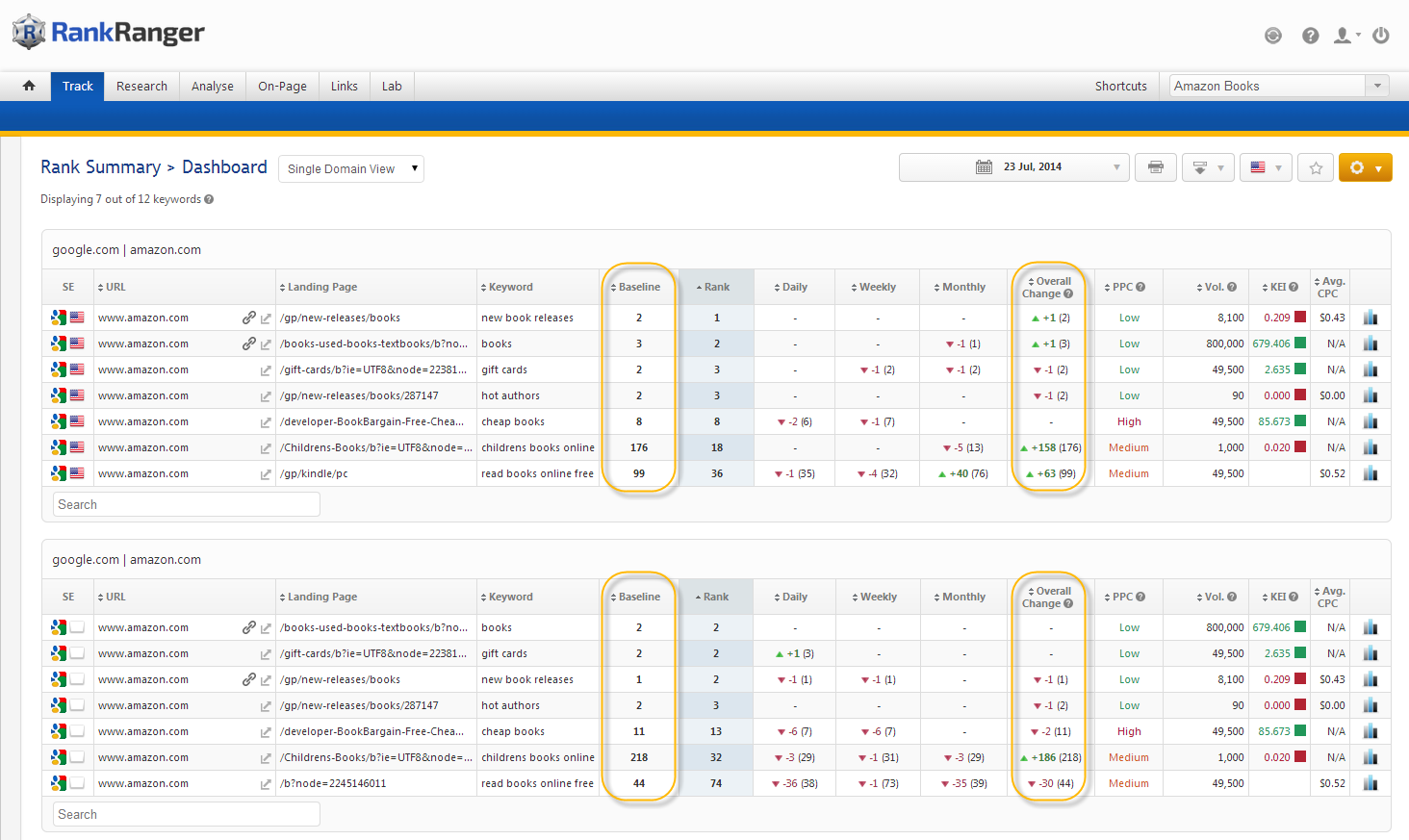 Note: The Rank Tracker Dashboard offers many column view options including Social Signals, Domain, Keyword, Landing Page and Backlink metrics, plus a per URL/keyword graph.


 
As with most Rank Ranger reports, the Rank Tracker Dashboard can be added to automated White Label PDF reports and your customer's White Label Portal, and can also be exported to PDF, CSV, Excel and Word.
So, what do you think – will the Baseline and Overall Change features help you demonstrate the value of the SEO work you do?
Really liking this Baseline feature? Great! It's also available in our Weekly Snapshot which details weekly rank performance based on the date range you
select. Along with the Rank Distribution table, Visibility and Traffic
graphs, the bright Rank Color Scale makes it easy for you to quickly
identify rank consistency vs. dramatic rank change for specific keywords
and landing pages.
The new Baseline and Overall Change feature was requested by many of our customers, and recently we noticed an increase in the number of requests so we elevated the priority level and pushed to make this happen quickly. If you have a feature request that you would like to see in our next update we invite you to contact us through our WeDevelop program.