Google Pulls the Plug on Classic Maps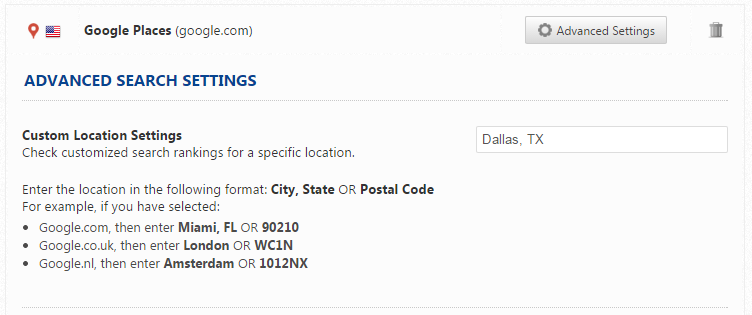 Google Pulls the Plug on Classic Maps
Google gave the impression several months ago that while a new Maps version was being deployed, they might leave the Classic Maps version alive for old browsers. So we've been providing customers with both options for local rank tracking, until now. Apparently, in the interim a final decision was made and Google has permanently pulled the plug on Classic Maps!  A quick glance at Google Maps Help indicates that:


"After the update you will no longer be able to switch back to or access classic Maps."

As of today all SEO campaigns that are using Google Places will be tracked in the NEW Google Maps. You don't need to make changes in your search engine settings because we have rolled this update out for all campaigns.  During our Beta phase we provided the top 10 Google Maps rank results and that is what is available today, with plans to gradually provide up to 50 map results.
Best Practice for Tracking Maps Results
We recommend one of two options for obtaining accurate Maps search results using our Google Places search engine:
Local Results Option 1: Advanced Search Engine Settings
1) Open the Campaign Settings > Search Engines screen and click the Advanced Settings button

2) Enter a custom location:


For Google US, either enter the Postal Code or City, State

For a country-specific Google search engine (e.g., Google.co.uk), enter only the Postal Code or City name,

do not

enter the country name
3) Click the Save button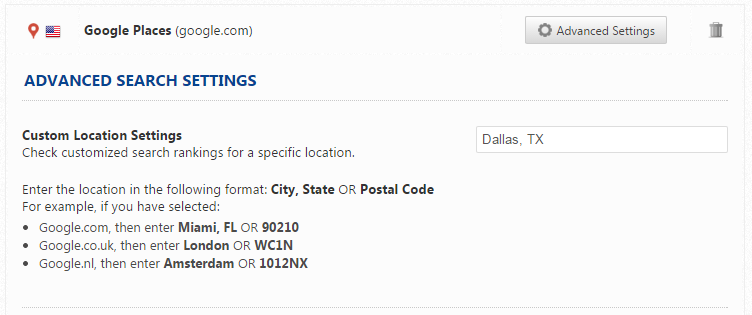 Local Results Option 2: Geolocation Keywords
Use geolocation Keywords by adding the location in the keyword phrase the way a searcher might naturally enter it. We provide keyword research tools that you can use for location-based keyword ideas and you can also obtain Google Suggested Search phrases by using our API.

Don't Confuse Google!


Do not enter a location in the search engine settings when using geolocation keywords because using both a location-based keyword and setting a location in the advanced search engine settings creates a search query that is not logical.  For example, pizza in Dallas is a natural search phrase, so you should either use:
geo keyword: "pizza in Dallas"

OR keyword: "pizza" and Advanced Search Custom Location Setting: Dallas, TX
Using both options would result in the search query "pizza in Dallas near Dallas, TX" and that's not something a normal user would type in a search box.  It may not seem to make much of a difference, but it does. I'm a bit hungry and I like pizza so let's give that search a whirl… for argument's sake we'll go with the "pizza in Dallas near Dallas, TX" keyword first.
Google Maps is apparently confused by "pizza in Dallas near Dallas, TX" – note the lack of eatery map pins.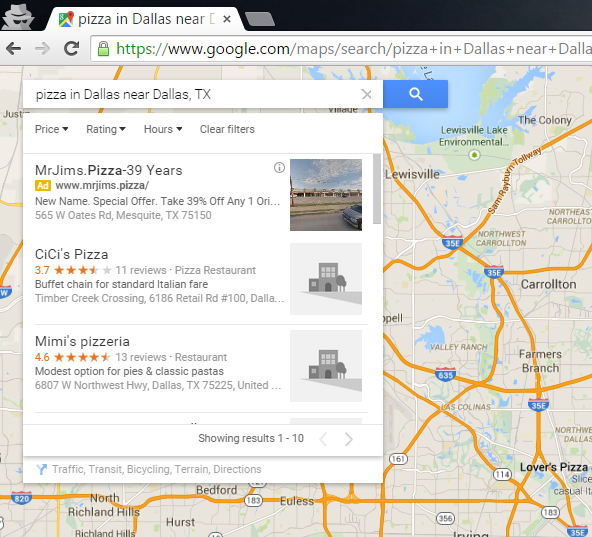 Google likes "pizza in Dallas" – note that Mr. Jim's is an advertisement, so we don't count that.  Now let's look at the #1 & #2 results, notice that they are completely different from the previous search. And, more importantly, the map is full of clickable pins for pizza places in the Dallas area, as well as links to business profiles, ratings and directions.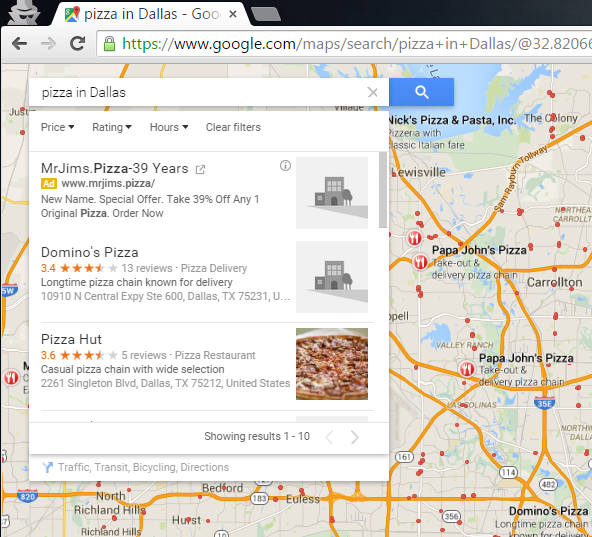 Improving Local Search
As Google continues to update their search algorithm for local we expect to see dynamic fluctuation in results. The evolution of local search results over the past few years is testimony to Google's commitment to search consumers that they strive to continuously improve the search experience.
2013 Era Google Maps Results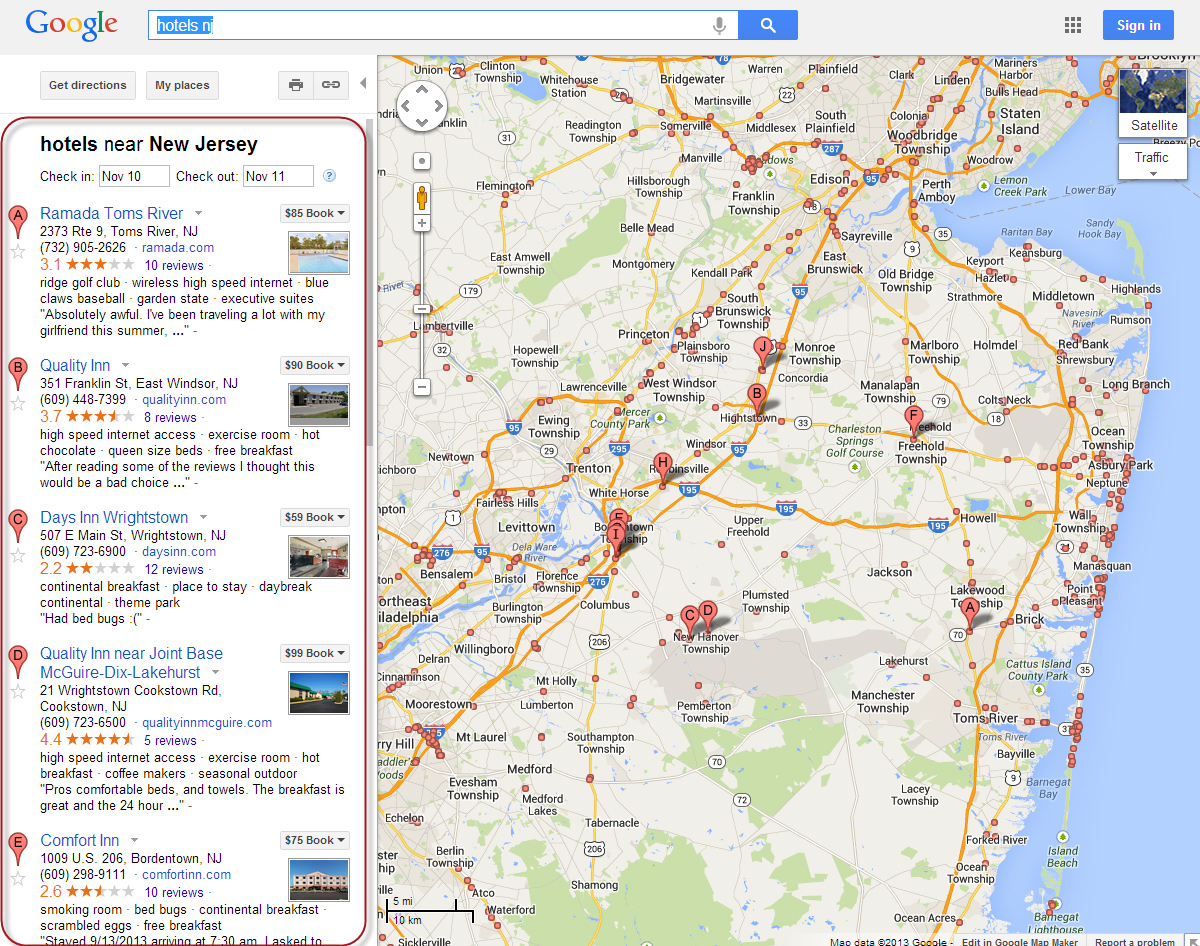 2015 Google Improves Map Results
Google Maps has evolved – as of today – into a full-featured map application that provides search results, suggestions, directions between locations via multiple transportation options, business information, reviews, location photos, etc.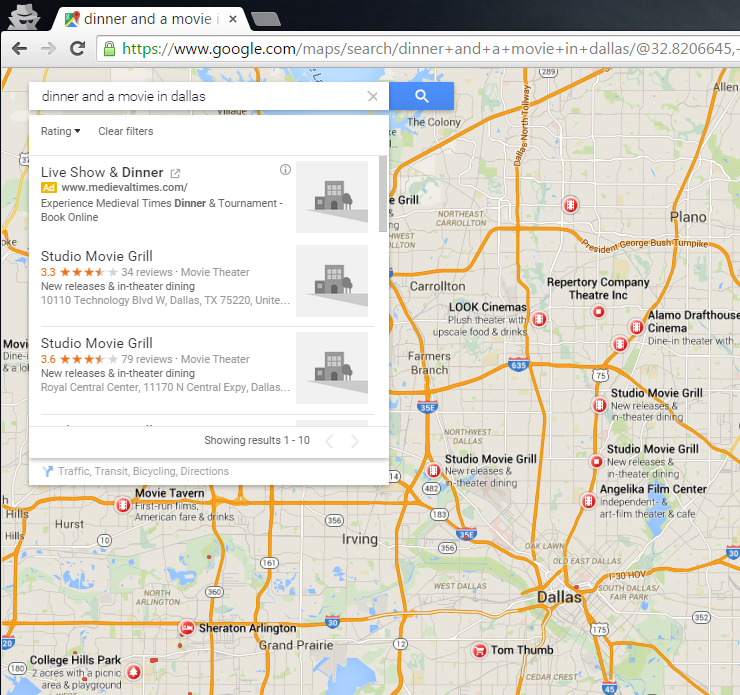 It's difficult to imagine what they'll be serving next… for now, I'm thinking dinner and a movie in Dallas would be nice and Google Maps has made it super easy for me to not only find a convenient movie grill, but will also provide me with transportation options and directions!