Brand Visibility: Universal Search Results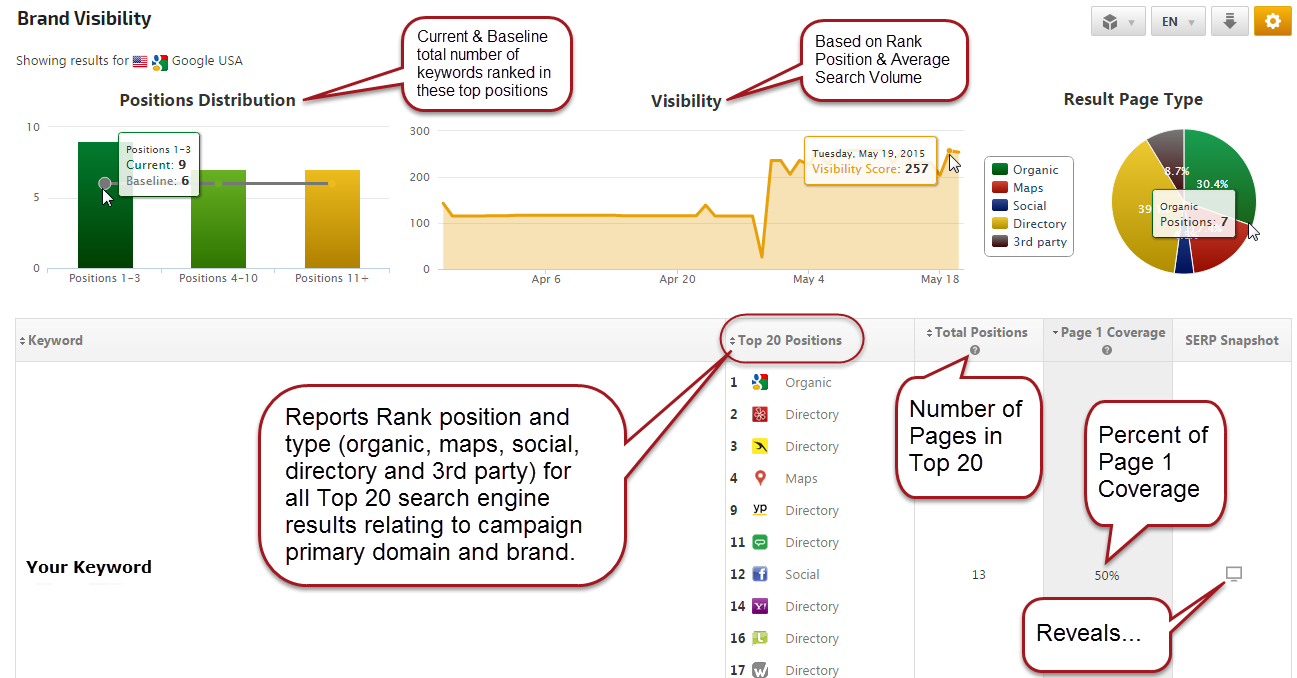 You can now monitor daily rank position for brand-related pages that are ranking in the top 20 search engine results, along with their rank position distribution, visibility trending, Page 1 coverage and universal results type, with our new Brand Visibility report. Brand related pages can include Twitter profile, LinkedIn company page, Facebook business page, Google+ business page, Pinterest account, various directory services and business review sites, Wikipedia, etc. 
Brand Visibility Report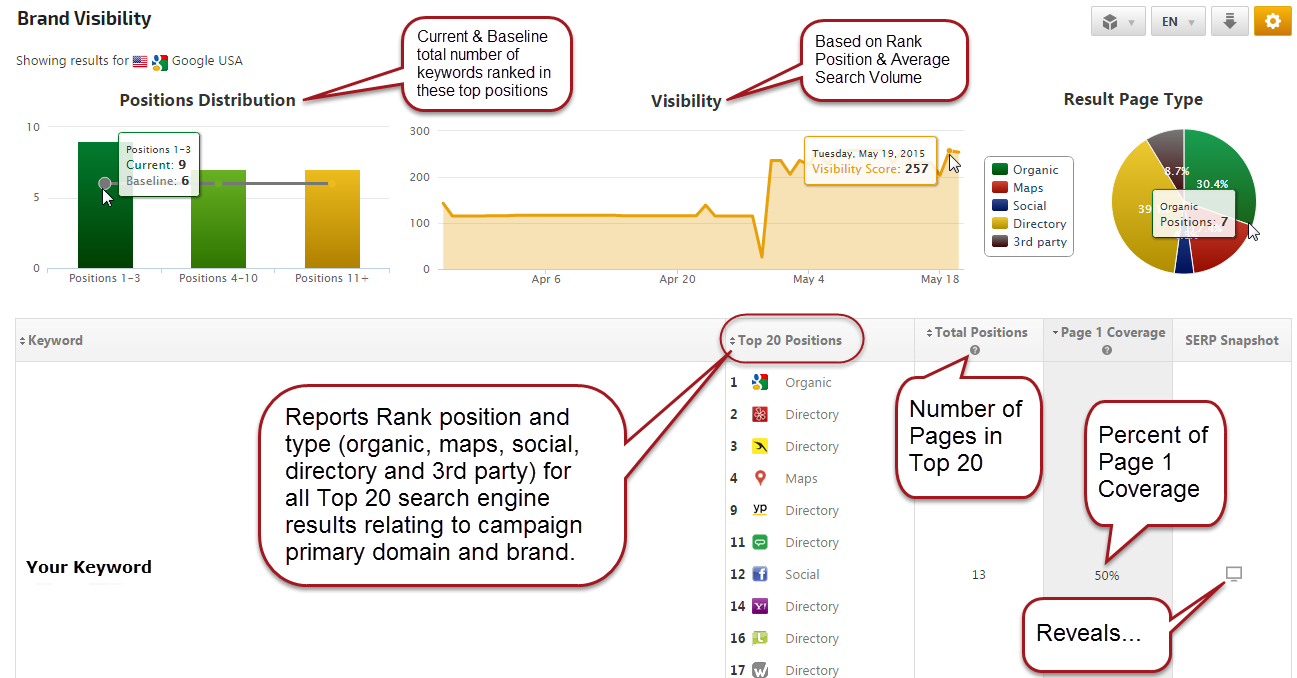 Top 20 SERP Snapshot
Discover the actual Top 20 rank results, Top AdWords Ads and Google
Related search phrases for your keywords in the SERP Snapshot. Click or tap the Discovery icon in the SERP Snapshot column to reveal top 20 search engine results for your keyword.  Scroll down to view the display of each of your brand landing pages that are ranking in the top 20 SERPs, along with listing services and sites that have published content about your brand or brand keywords.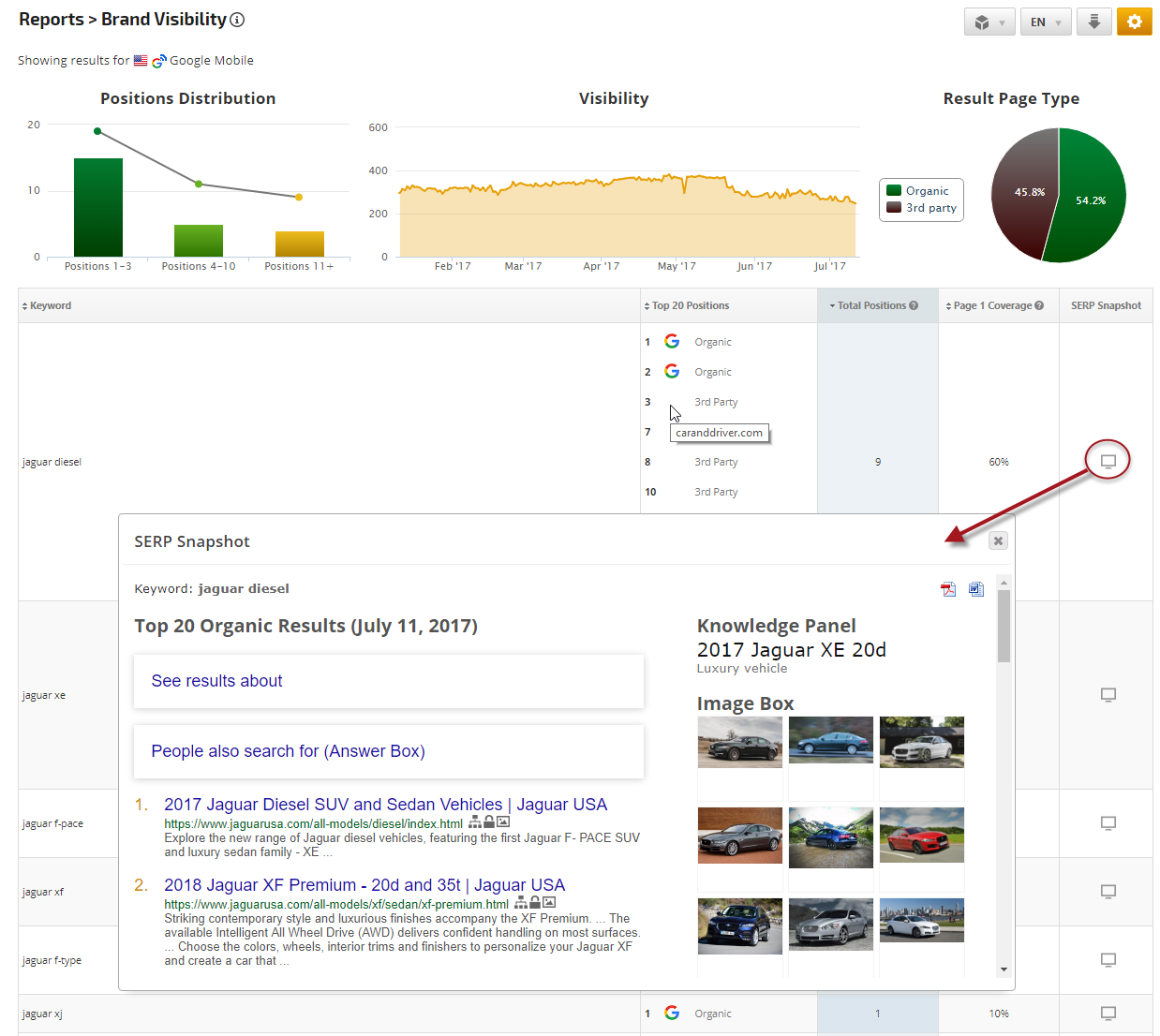 If reputation management is important to you, you can right click on any SERP Snapshot link and open the page in a new tab or window to view the page content.
Competitor Insights
Since this is an actual snapshot of search engine results, you can also see if your competitors are ranking for your keywords and view their page titles, URLs and page description text to gain insights into how they are ranking in the top 20.  In this example we're tracking the keyword "last minute New York" for TripAdvisor.com and we find them ranking in positions 5 & 6. Competitor LastMinute.com has captured the top 3 positions, why? Possibly because part of the keyword is their domain name and that seems to be the strongest indicator if we consider that travelzoo.com in position 4 and tripadvisor.com in positions 5 & 6 also have the keyword in their title, URL and description.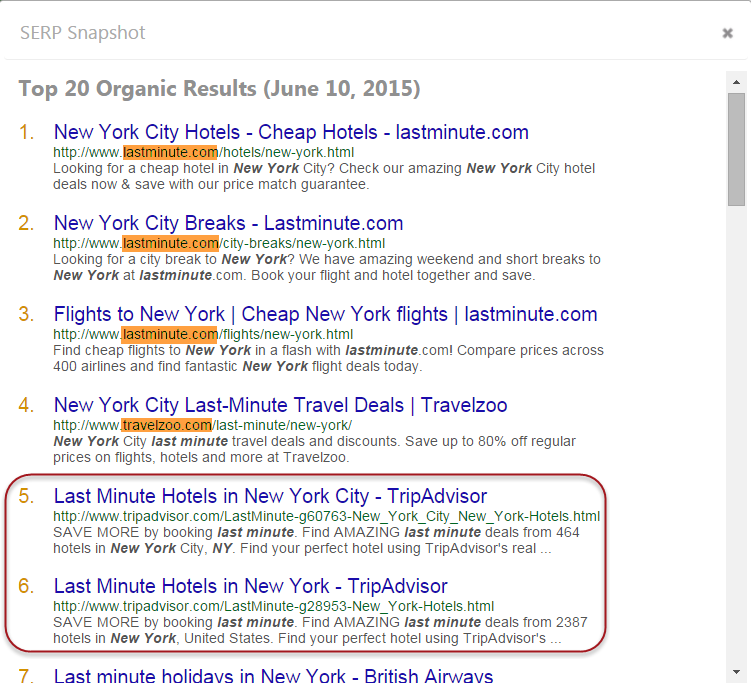 Top Ranking AdWords Ads
Taking the analysis a step further we can scroll down to the snapshot of the Top AdWords Ads and see that, again, lastminute.com has scored higher (in position 2) than tripadvisor.com (in position 3) for AdWords rank. Interestingly trivago.com captured the number 1 position with an ad that uses the keyword in 2 different ways: "Last Minute" and "LastMinute". And both competitors' ads include the keyword in the URL, unlike tripadvisor.com.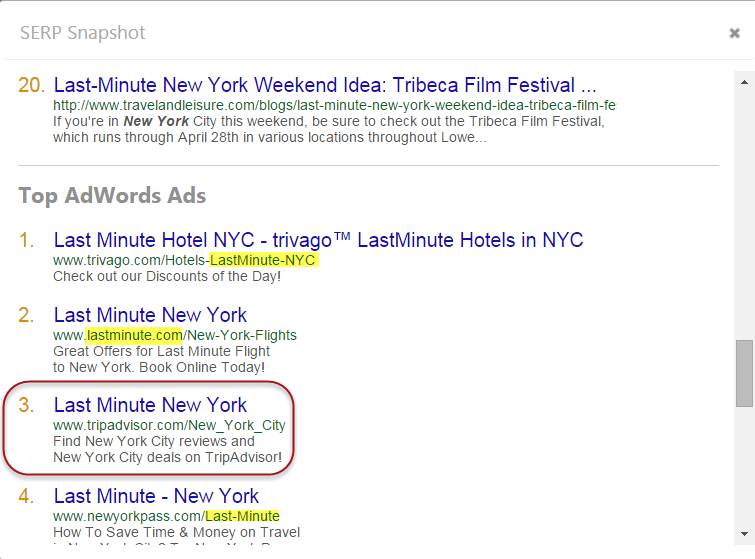 Since we know that there are many factors considered by Google's algorithm when determining rank position, in the case of our Trip Advisor campaign our next step would be to run the URLs for both Trip Advisor's and their competitors' high ranking landing pages through our On-Page Keyword Optimization Tool to determine what improvements might need to be made to the Trip Advisor site to help push them into the top SERP position.   And if these top ranking competitors are not being tracked alongside all of Trip Advisor's keywords, we may decide to add those domains to their campaign and keep an eye on them in the Rank Tracker Dashboard's competitive view for long-term trending of keyword and landing page rank.
Related Search
Looking for keyword ideas? If Google provides related search results for your keyword, you'll find those keywords in the SERP Snapshot. You can test these related search phrases in our Keyword Research Tool
to discover monthly search volume, average cost per click (CPC) and PPC
competition, and even add a keyword directly to your rank tracking
campaign.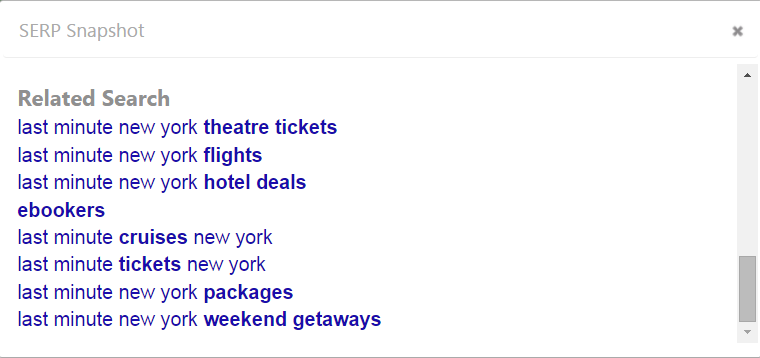 Brand URLs can be added in Campaign settings and the Brand Visibility report is found in the Enterprise Management Reports section of Rank Ranger, please refer to the documentation for instructions. This report can be added to automated PDF reports and in addition to your onscreen use of the SERP Snapshot, this option is also available for your customers to interact with in your White Label Client Dashboards.
Don't have an Enterprise account and really like that SERP Snapshot feature? Not a problem – you will find a top 10 version in your Rank Tracker Dashboard. You'll also find detailed top 20 competitor snapshots in our Top Organic & Paid Competitors reports.