Bitten by Google's Geo Location Settings Bug?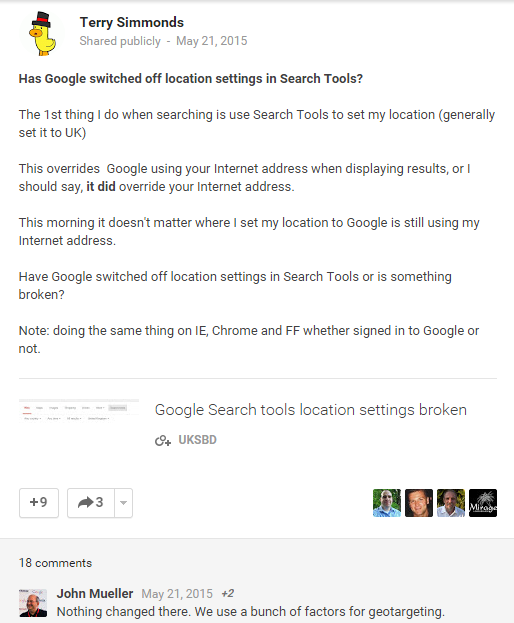 If your local rankings have demonstrated extreme rank changes recently, it's quite possible that the site you're managing has been bitten by a Google Geo Location bug. And you're not alone since Local Search Forum members have reported and documented unstable fluctuation of local search continuing through today, so it's possible that a local update is still rolling out to various parts of the world or that it's a bug.
SEO Specialist Terry Simmonds asked are "Google Search Tools Location Settings Broken?" And posted screenshots detailing Chrome Search settings for all results in the United Kingdom, yet Google was still using the Internet address targeting results for Thames. 
A customer alerted us to extreme local SERP swings when many of the campaign's keywords plummeted from top 10 positions to positions in the 263 to 500+ range. 
We confirmed that the custom location settings were correct for this campaign and then searched online for potential reasons. Between May 21st and today the conversations have exploded in various SEO and webmaster forums, yet Google has not made an official announcement.  
In the meantime, we will continue to report local search results as Google serves them. If you need local results and haven't enabled your custom location settings you can do that in the Campaign Settings > Search Engines screen.

Google's  Gary Illyes tweeted yesterday that "we are looking into the numerous reports we got about this", so it sounds like this phenomenon is most likely the result of a bug.