Get Rank & Traffic Change Alerts by Email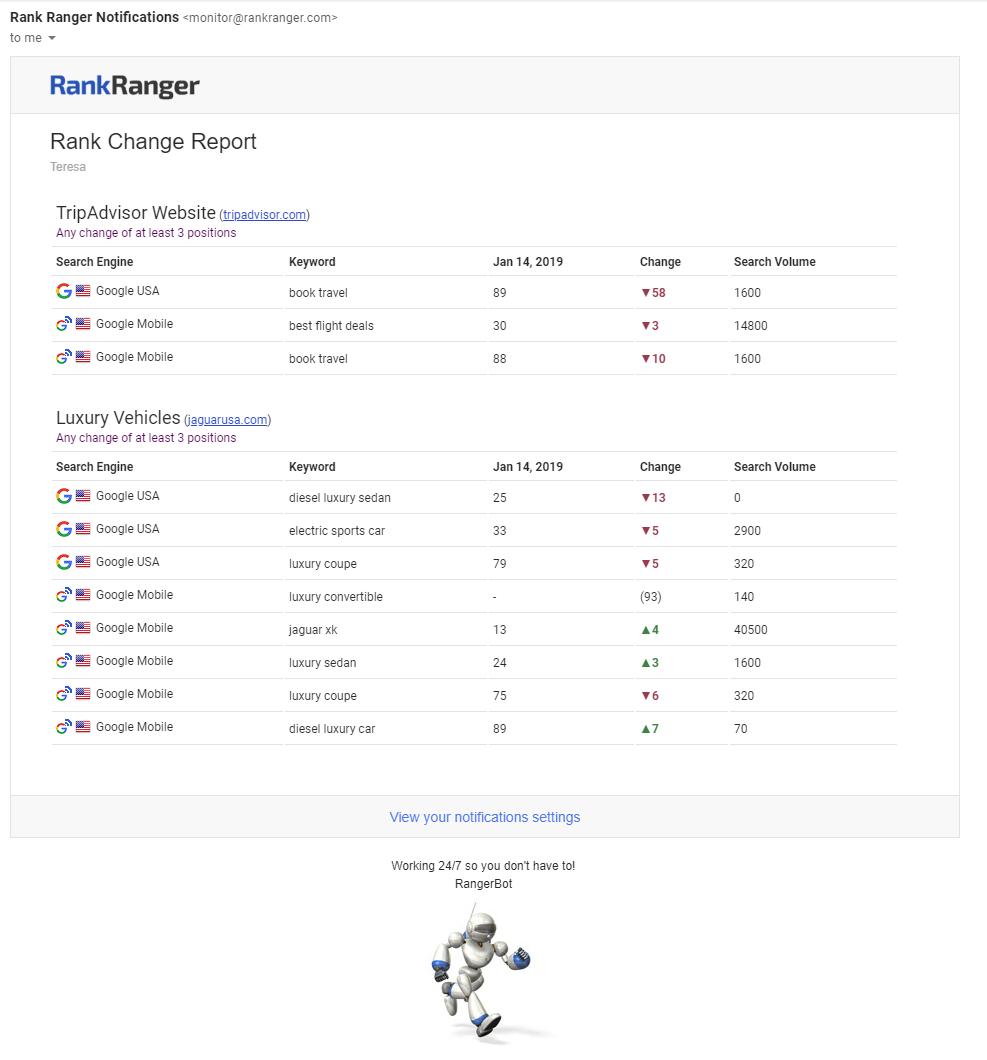 Email Notifications keep you informed of changes in Rank or Traffic and tracked Links status based on the change type, threshold and frequency that you set to trigger alerts.
Campaign Rank Change Email Notifications
If it's important for you to be alerted when a site's keywords drop out of the top 3, top 5 or top 10 SERP positions, or when their rank position changes at all, then easily set up Rank Change Email Notifications. Options include daily, weekly or monthly email notifications of:


Any Rank Change of at least X positions

Positive Rank Change of at least X positions

Negative Rank Change of at least X positions

Keywords have reached the top X rank position

Keywords have dropped from the top X rank positions

Keywords have dropped or reached from/to the top X rank positions
You determine what X equals for each website and RangerBot will send you an email notification like this when those conditions are met.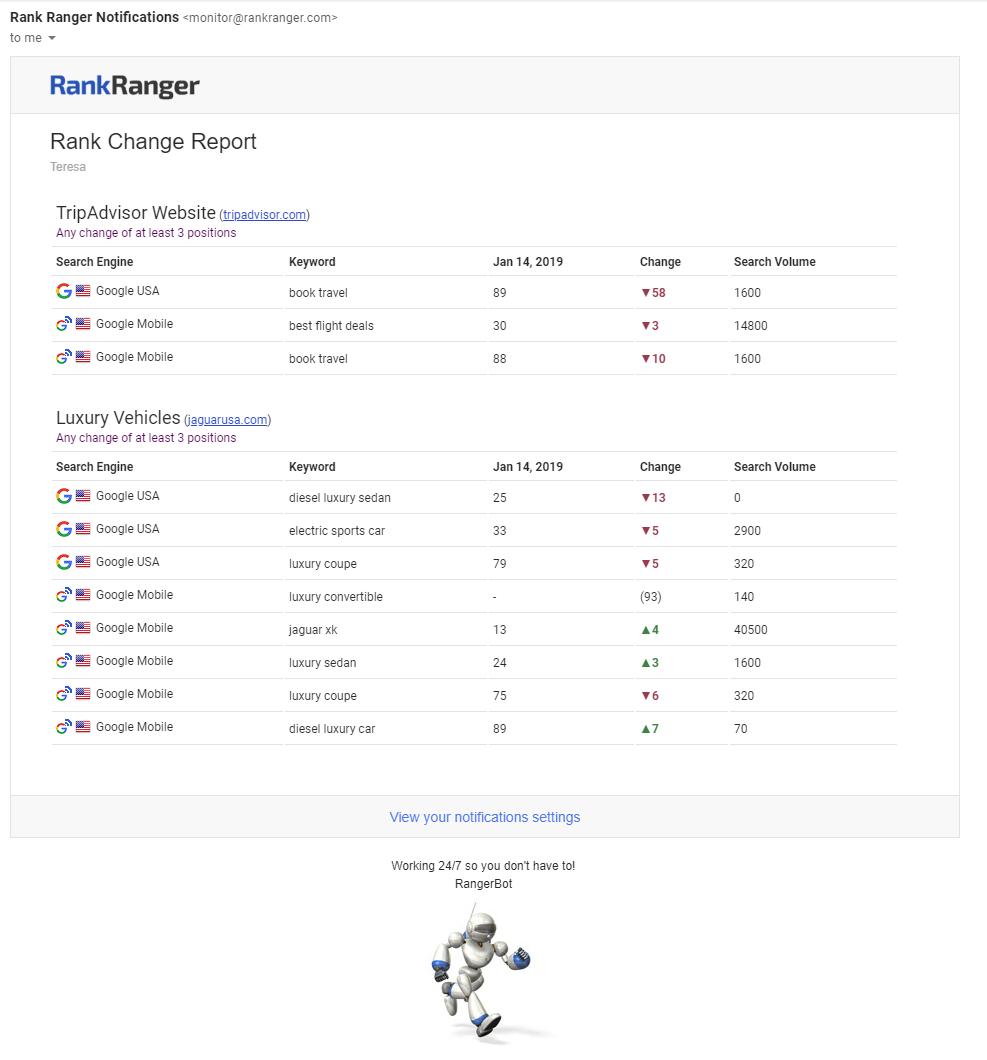 Campaign Traffic Change Email Notifications
If you're doing SEO for a small business with a site that receives less than 500 visits per month and you're running a new social media campaign every month, you may want to be notified monthly when the site's social traffic changes by at least 25 visits.  On the other hand, if you're responsible for local SEO and digital advertising for a site with average monthly traffic of more than 10,000 visits and you're running AdWords campaigns, then you may want to be notified of increase or decrease in site visits based on a percentage – and you probably want that traffic broken down by organic search, paid search, direct traffic, social traffic, other and total traffic.
Traffic Change rules are applied to each individual campaign so you can customize your email notifications based on historical traffic patterns and anticipated change thresholds. Customize your Traffic Change Email Notifications settings and RangerBot will send you a traffic report like this when those conditions are met.
Link Manager Email Notifications
If you're using Link Manager to track your paid links or links that another site has agreed to exchange, it's probably important for you to know when the status of links change from anything other than Valid. For example, links that don't match the anchor text you requested, are marked as no follow, or are dead may be contrary to your agreement with the site hosting the link that's supposed to be leading traffic to your destination.
In addition to logging in to check your link reports periodically, you can now create a Link Manager Email Notification to alert you daily, weekly or monthly of the status of links in your account.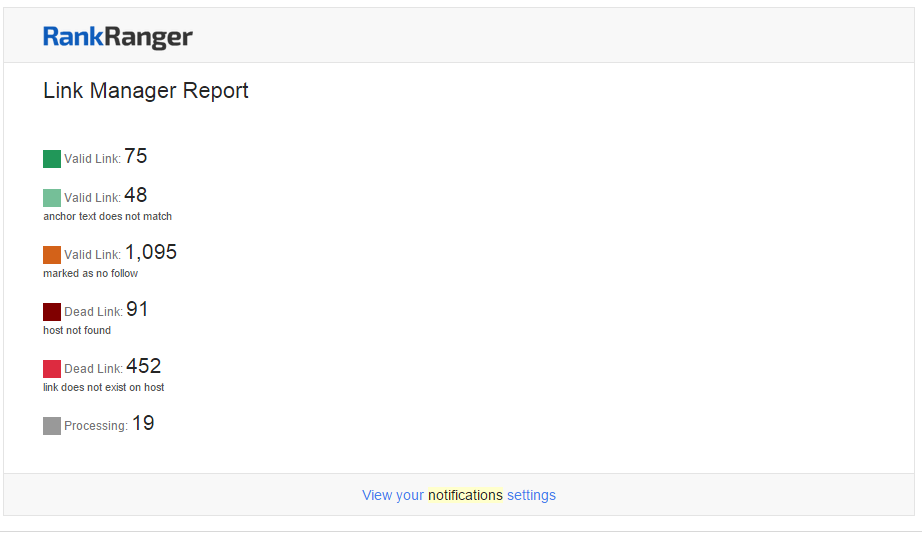 More Email Alerts!
We know there are times when you have an important keyword that you've optimized content for and want to be alerted of rank position change on a specific search engine, so we do offer the option to create a Keyword Rank Alert that will send a message like this when your alert rules are met.

Rounding out our email notifications is our Domain Backlinks Alert that can be configured to send a message detailing changes in the number of domain backlinks on a daily, weekly or monthly basis to any email address when the rules you've created are met.

Email Notifications Customized for Individual Users
If your SEO platform package allows for multiple users, you should take advantage of that feature and create user logins for each person who is authorized to manage rank tracking campaigns, client dashboards, white label PDF reports, profiles and/or links.  Users can personalize settings by updating contact details and adding an avatar, but most importantly, providing each user with a login enables personalized email notifications.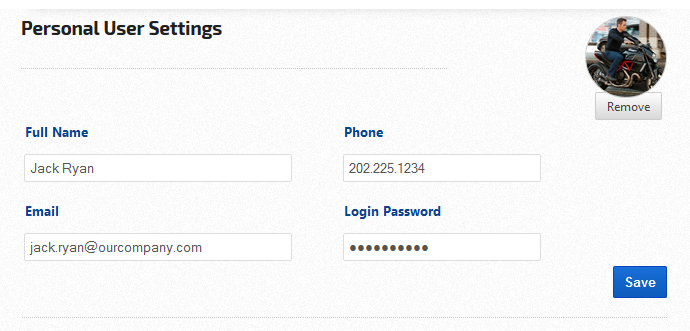 When an authorized user logs in and accesses the Email Notifications screen, they are able to create notifications that will be sent to their email address. If everyone uses the account default login, email notifications are only sent to the account default email address.
Manage Alerts and Notifications
All notification and alert types can now conveniently be managed in the Email Notifications screen in the Add-on section of Rank Ranger. We look forward to your feedback and hope the new email notifications improve your ability to effectively manage your digital marketing campaigns.