Mobile Carousels & Mobile Friendly get new SERP icons

For every day that passes by, more and more Google searches are performed from mobile devices. Therefore, mobile keyword tracking has become an essential part of every SEO's daily work; to monitor improved SERP rankings on mobile devices (in addition to desktops).
In order to make the mobile tracking easier, and less time consuming, I'd like to share our latest platform update in regards to mobile tracking – that Rank Tracker Dashboard now provides indicators of when a Google carousel is included in the mobile SERP, as well as a mobile friendly confirmation from Google.
Mobile Friendly Dashboard Indicators
In addition to all other SERP icons available in the SEO dashboard, two of them are purely dedicated to mobile searches: The Mobile Friendly confirmation from Google and Mobile Carousels. In order to gain access to these insights about your tracked keywords, all you must do is to track Google Mobile (for your location), and automatically you'll see next to the tracked URL, which SERP features apply to your tracked campaign.
Google Mobile Friendliness Confirmation
You've done everything you can think of, in order to make your website 100% accessible for mobile users… responsive design, enough space between the links, quick loading time for images, etc. and Google rewards you with their own confirmation of mobile friendliness. You can know for sure that this is the case once you've seen our mobile-friendly SERP icon

in Rank Ranger's SEO Dashboard.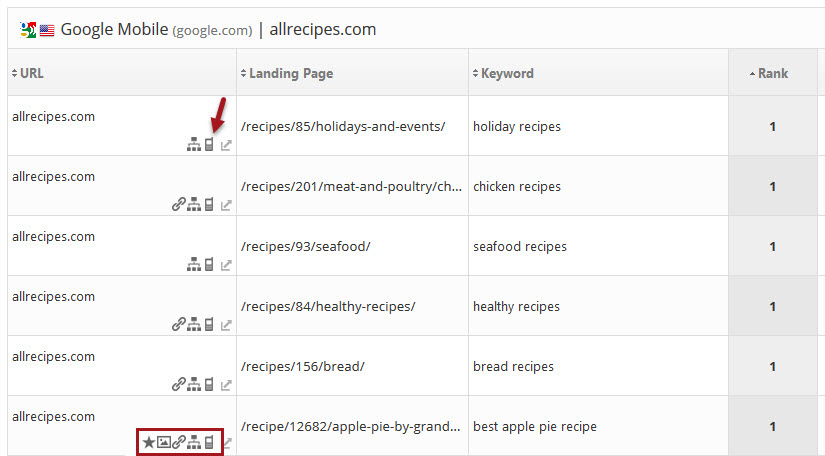 We can see indicators in the above report that for the mobile search "best apple pie recipe", in addition to the mobile-friendly SERP icon, AllRecipes.com scored several other Google SERP features which are displayed in the actual SERP snapshot below:
Ratings – 5 stars


Image Thumbnail – Grandma's apple pie

Sitelinks – these are sometimes viewed best in landscape orientation in order to access all of them at the bottom of the search result. In this example it was necessary to do that in order to be able to click the "Healthier Apple Pie" recipe.


Breadcrumbs – Allrecipes > recipe > apple-pie…


Mobile-Friendly – preceding the meta description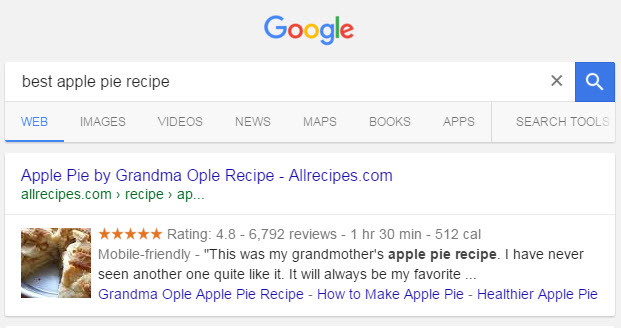 Google Mobile Carousel
Google has over the past years rolled out several SERP features, among them, the Carousel. Simplified, Google's Carousel provides you with several results side by side, using image and video thumbnails that allows you to scroll from side to side.
In our example, we're tracking "what to make for breakfast" for AllRecipes.com and 5 competitor sites. If you were to view this search live on a mobile device, you'd see 8 image
thumbnails and 1 video are currently being displayed on Google USA
mobile.

 In Competitive View in our Rank Tracker Dashboard, you'll find this SERP indicator 

  whenever a mobile carousel is displayed for keyword search results in a carousel linked to the tracked site.
For further information about all Google SERP feature indicators displayed in in Rank Ranger's Dashboard, please check visit SERP Icons & API Search results Indicators Explained.