Google SERP Features Search Intelligence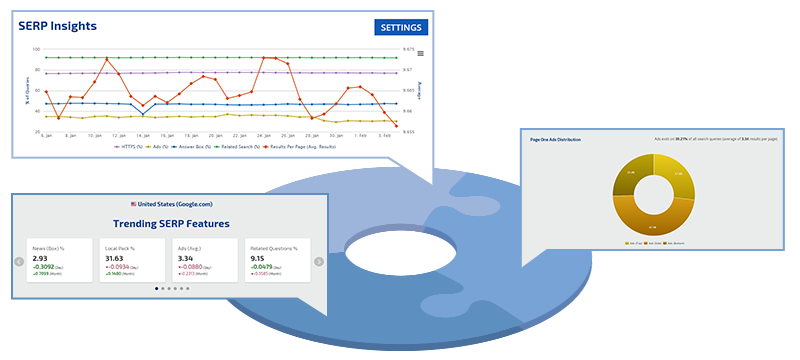 We're happy to announce the launch of our Google SERP Features tools that aim to provide online marketers and researchers with free access to search intelligence big data.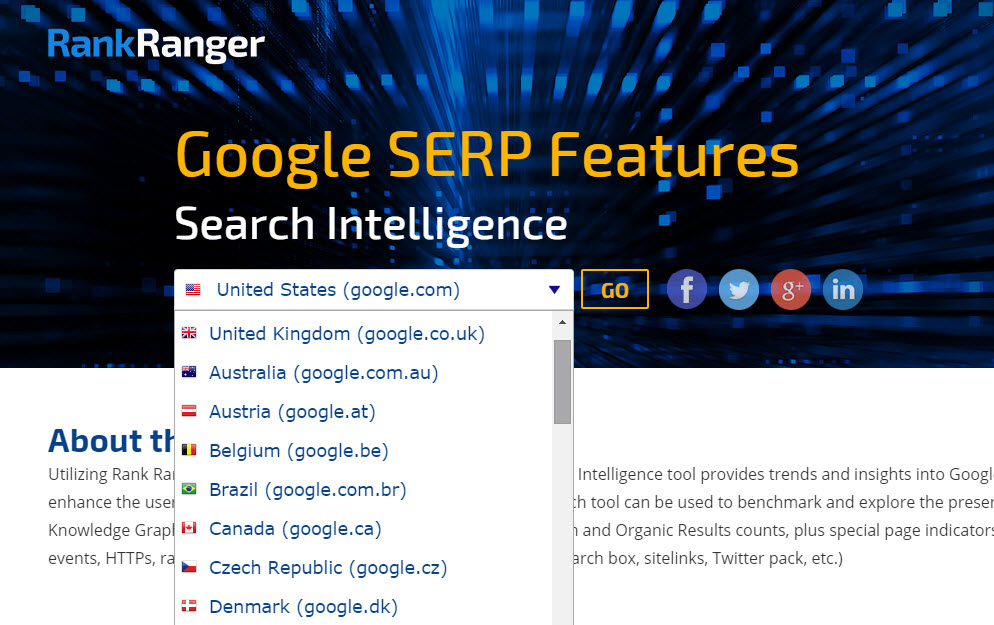 Figure 1: Search Intelligence is available for global Google search engines
Trending SERP Features
Utilizing our 500K Dataset, the Google SERP Features Search Intelligence tool
provides trends and insights into Google features that enhance the user
experience in search engine results.



Figure 2: Trending SERP Features for February 23, 2016 indicate dramatic change in AdWords placement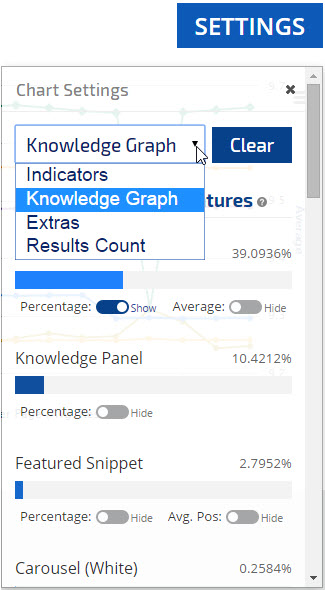 This free research tool can be used to
benchmark and explore the presence and trending of:
Organic Indicators

: Breadcrumbs, Events, HTTPs, Reviews, Notable Online, Image thumbnails, Video thumbnails, Search Box, SiteLinks, Twitter pack, etc.

Knowledge Graph Features

: Knowledge Panels, Featured Snippets, Carousels, and Answer Boxes and types (e.g., Map, Related Questions, Info, Disambiguation, Dictionary, Flights, Sports, Weather, General Converters, Nutrition, Translation, Stock, Currency Conversion, WhenIs, etc.)

Page One Extras

: Ads and ad positions, Images (Box), Local Pack, News (Box), and Related Search

Organic Results Count

: breakdown of Results per Page

Customize a SERP Insights Graph
Select a variety of SERP features to create a custom SERP Insights graph. Hover over any point in your graph to view the detailed results.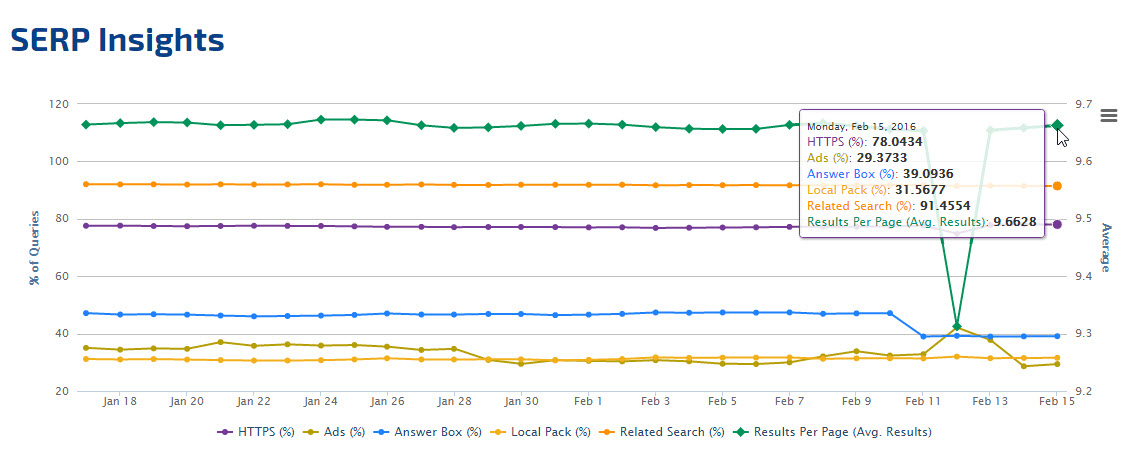 Figure 3: SERP Insights graph including select Organic Indicators, Knowledge Graph Features, Page One Extras and Organic Results Count
You can also download an image file or PDF of the search analysis graph you've created.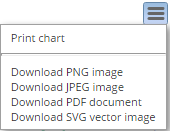 Figure 4: Download options in SERP Insights Graph
Page One Ads Distribution
The percentage of Google Page One search queries results containing AdWords and the location of those ads on the page are displayed in the Page One Ads Distribution chart.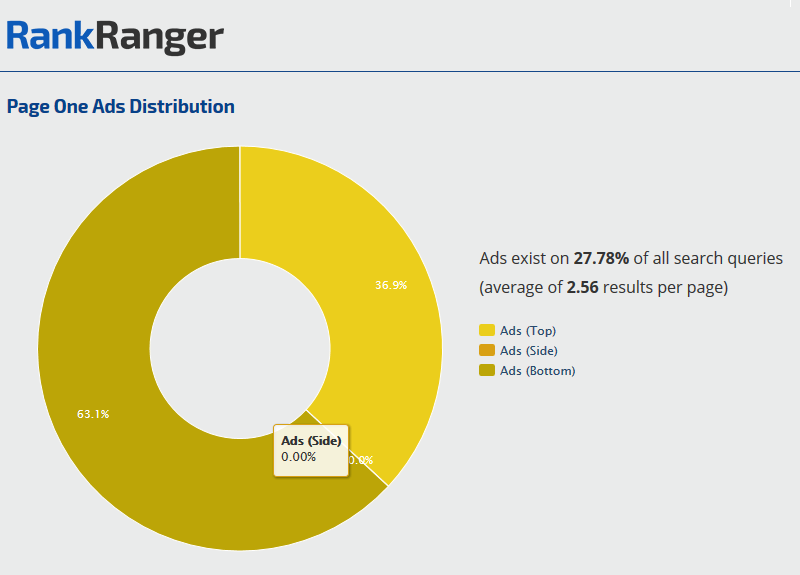 Figure 5: Percentage of Google Page One search queries results that include AdWords ads
Google Organic Results Count
The average number of Organic results per page is displayed along with the percentage of Page One results containing the specified number of results. For example, 10 organic results used to be standard, however, recent search intelligence indicates 5 to 12 organic results on Page One, possibly due to the number and type of SERP Features.



Figure 6: Google Organic Results Count statistics
Answer Box Types
Google serves users a wide variety of Answer Boxes from currency conversion to flights, maps, nutrition, related questions, weather and more that enhance user experience. This SERP Features tool provides a breakdown of the each Answer Box type by percentage of search results.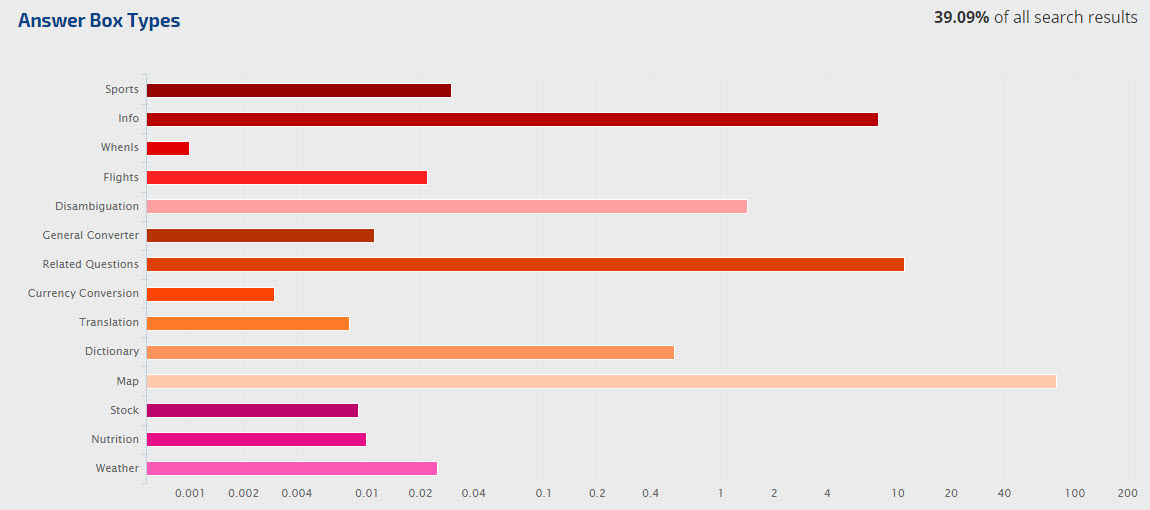 Figure 7: Percentage of Answer Box Types displaying on Page One of Google search results
SERP
Features by Country
Researchers interested in international trends and
comparison of SERP features by country can utilize the Google SERP Features Global
Search Intelligence tool that enables users to easily explore and analyze the
existence of Page One Extras, Knowledge Graph, Page One Organic Results Count and Organic Indicators.
Page One Extras
Analyze the percentage of Page One Ads, Image boxes, News boxes, and Local Packs and Related Search served by Google to different
world markets. Averages by country are also available for Ads and Related Search.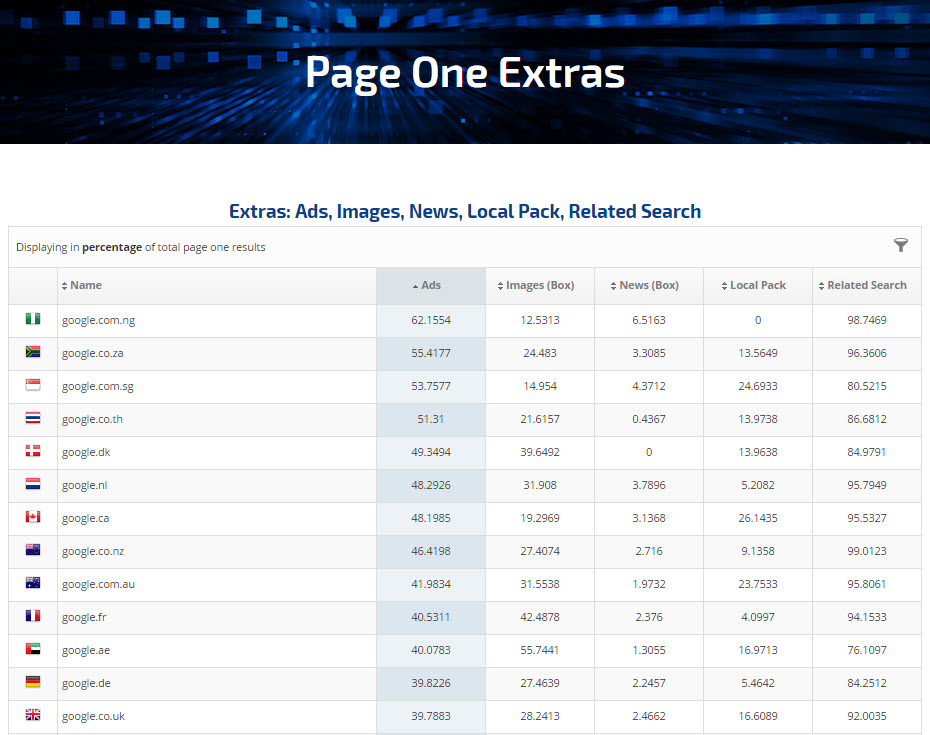 Figure 8: Percentage of Page One Extra SERP features
Knowledge Graph
Discover the percentage of Knowledge Panel, Featured
Snippet, Answer Box and Carousels displayed on Page One of Google Search around the world.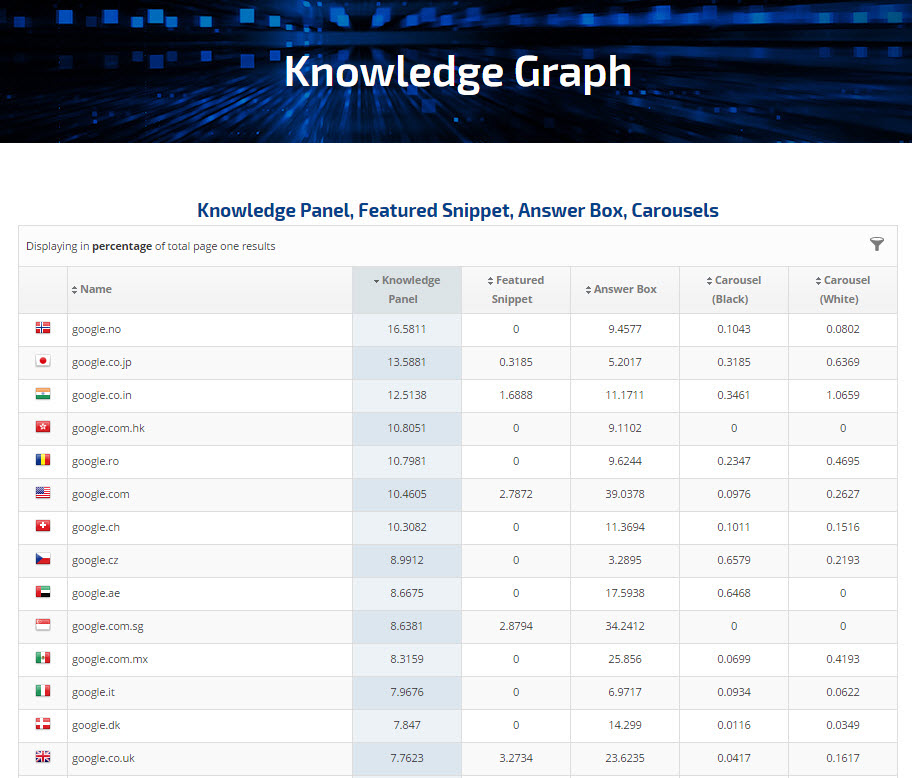 Figure 9: Percentage of Knowledge Graph feature types found in Google search in each country
Page One Organic Results
Count
Analyze the number of Organic results displayed on Page One of Google in each country, along with a breakdown of the percentage of queries containing the specified number of results.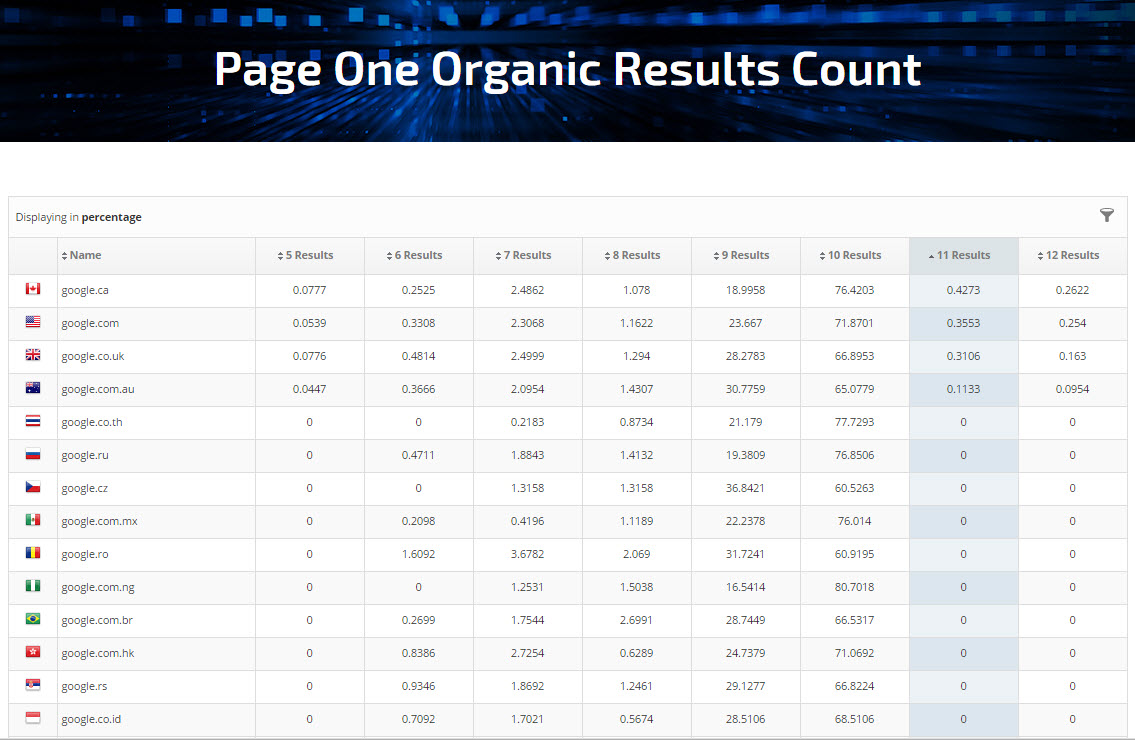 Figure 10: Page One Organic Search Results Count by Country
Organic Indicators
Percentage and Average number of HTTPS,
SiteLinks, Ratings, Image and Video Thumbnails, Events, Breadcrumbs, Notable
Online, Search Box and Twitter feed in Google Page One SERPs are available by country.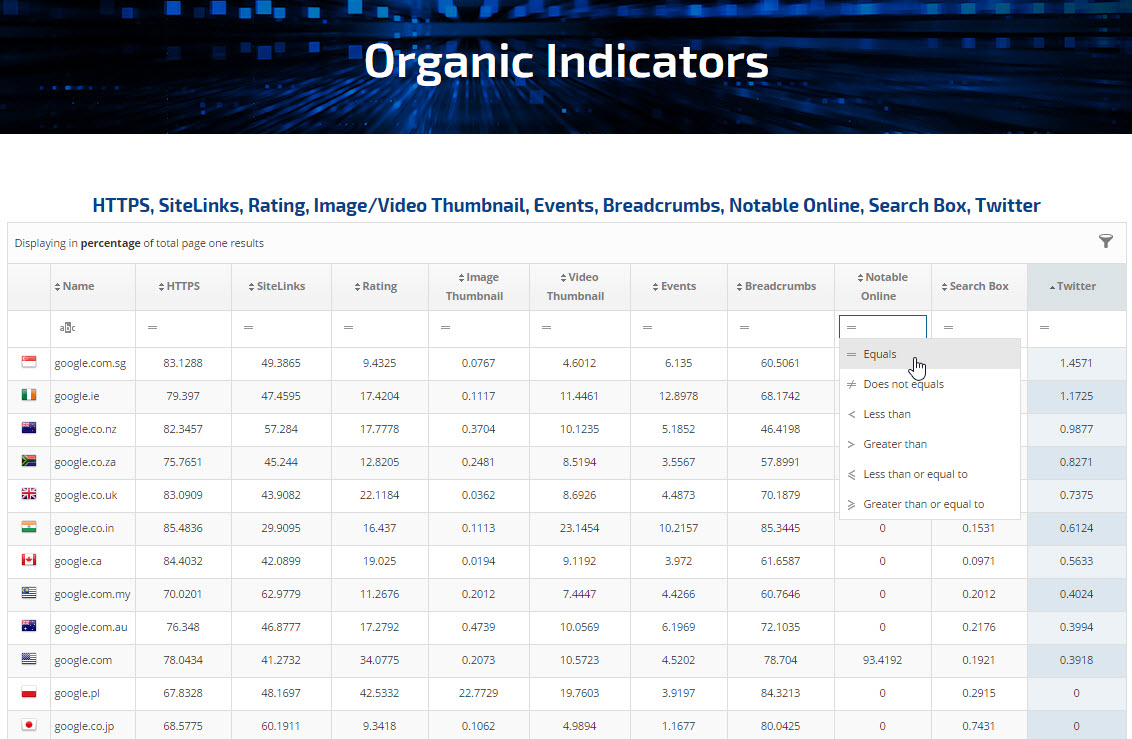 Figure 11: Google Search Engine Results Page One Organic Indicators by Country
Do you need more in-depth research data?
These tools are provided free of charge with results based on the current day's data.  If you're conducting research or in-depth case studies relating to Google Search and need access to additional data regarding algorithm changes, SERP features, organic, local, and mobile results and their effect on organizations, business marketers, consumers or society, please contact us using the form on the Google SERP Features Search Intelligence page and we'll be happy to assist you.